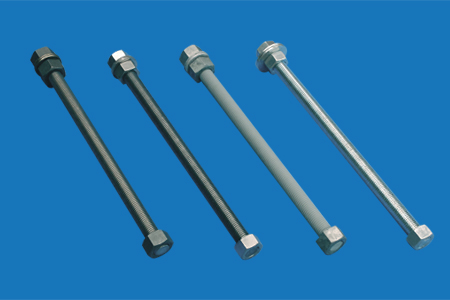 Anchor Rods are fabricated for:
Structural Steel Fabricators
Metal Building Manufacturers
Metal Building Contractors
Metal Building Erectors
Metal Building Dealers
BOLTCO of South Florida manufactures A307 ATR Anchor Bolts with a tack welded nut that is commonly used in lieu of A307 Headed Anchor Bolts.  This is a typical Anchor Rod used on all types of Metal Building Projects across the United States. 
We also manufacture these Anchor Rods of A193 B-7 ATR, Hot Dipped Galvanized (HDG) ATR, 304 and 316 Stainless Steel (S.S.) ATR.  BOLTCO manufactures Plate Washers for these Anchor Rods and Anchor Bolts that can reach up to 2 ½" in diameter.  We can produce Plate Washers for all your Anchor Rod and Anchor Bolt need from ¼ x 2 x 2 all the way up to, ¾ x 12 x 12. 
Our well stocked plant allows us to manufacture and ship your Anchor Rods for your next metal building project A.S.AP, we mean… LIKE YESTERDAY!
We ship nation wide and to the Bahamas and the Caribbean.